***Simply Living has moved! Come check us out at
http://www.simplylivingjen.com
for new updates ***
This post brought to you by
Slim-Fast
. All opinions are 100% mine.
So in previous posts I have talked about how I have been trying to keep a low calorie diet in order to cut out some weight. I've been pretty good about keeping the calories down, so I've also been trying to focus on getting the right levels of nutrients in my daily diet.
I decided to give the new
Slim-Fast
Shakes a try. They come in around 190 calories, which I wasn't thrilled about at first, but they are actually really filling, so they make the perfect breakfast or afternoon snack. Another huge benefit are the high levels of protein, fiber, vitamins and minerals. I've mentioned before that I struggle getting enough Potassium in my diet, well one shake gave me 600 mg of Potassium, bonus!
I perused the selection at my local grocery store (and received a $1.50 off a future purchase coupon at the end!) but you can also pick up Slim-Fast products at Wal-Mart, Target, Safeway, Kroger, Amazon.com, or at the Slim-Fast 3-2-1 store on Facebook. I decide to give the Creamy Milk Chocolate a try.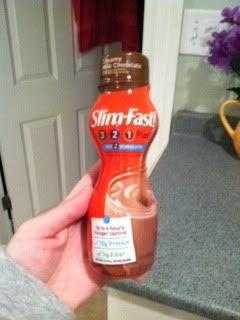 It looked like, and tasted exactly like, chocolate milk! I was really impressed with the flavor. I have tried protein shakes in the past, and have not been overly thrilled, but this tasted like a glass of chocolate milk. It tastes much better cold, so I stuck a couple ice cubes in there, but I used the plastic kinds that don't water down a drink. The colder it was, the more frosty and chocolatey it tasted.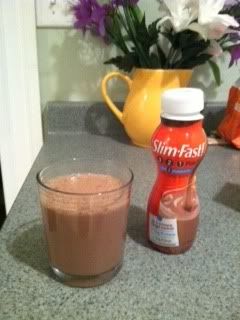 Even though at first I was a little put off with how high the calories were, I was pleasantly surprised at just how filling it really was. It worked as the perfect snack and I didn't need a meal for hours later. Definitely a plus! I know I'll be going back for more. Some of the other flavors look pretty interesting too, now that I've cut out most coffee, a nice cappuccino flavor might be nice, and I do like Vanilla Milkshakes, so I might have to give the French Vanilla flavor a try.
I'm also interested in giving the Slim-Fast 100 calorie snack bars a try as well. I glanced at the selection in the store while picking up my shake and was impressed with the selection. Since my current diet is focused on cutting out calories, I'm constantly looking for low calorie snacks, and you can't beat 100 calorie bars! A regular granola bar tends to run around 110 calories, or more, and don't look nearly as filling.
Overall I'm really happy with my
Slim-Fast
experience. I think I've made a new discovery that will help this low calorie diet continue to be successful. I'm happy to be healthy and feeling good! I encourage all of you to give the new shakes a try! Also swing by and check out the Slim-Fast Facebook page, I'm sure you'll "like" them, just like I did!